Landscaper
Whether you've been longing to turn your backyard into your own personal retreat or you want to hand over the maintenance responsibilities for your commercial property, our Albuquerque landscape and design services can help you create outdoor living spaces that will enhance your life at home and at work. Regardless of the simplicity or complexity of your visions for your property, our team at CBS Quality Lawn Care is prepared to help you bring them to life.
Beautiful Landscapes That Work for You
At CBS Quality Lawn Care, we believe that landscapes shouldn't just be beautiful, but that they should be functional as well. With over 25 years in the business, we have mastered the art of creating outdoor spaces that speak volumes about property owners' personal styles without sacrificing practicality or functionality. Our design plans incorporate your visions while also accounting for critical factors such as gradients, utility lines and drainage. In the early design stages, we also consider how you plan to use the space and ensure it works for your intended purpose.
Effortless Landscapes With Xeriscaping
Our decades of landscaping experience in the Albuquerque and surrounding areas has given us ample time to develop and perfect sustainable landscaping techniques in the harsh New Mexico climate. One such technique is xeriscaping.
Xeriscaping provides an attractive alternative to traditional landscaping. Because it utilizes native plants and stone, xeriscaping is low maintenance and cost-effective. In lieu of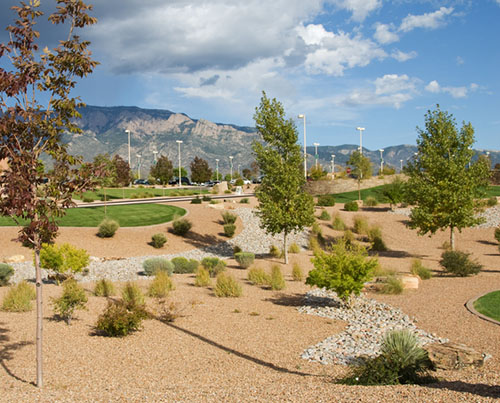 frequent watering, excessive weed control, obsessive edging and strict soil control, xeriscaping simply requires the following:
Weeding and removing dead plant matter
Litter removal
Evening rock coverage
Pruning shrubs and bushes
Plant watering
Because of the simplicity of a xeriscape, you need only perform these chores on a weekly or even biweekly basis. When you work with a landscape contractor, however, your time commitment need not even be that great.
Landscapes for All Preferences and Budgets
Whether you want to design a low-maintenance xeriscape or create a lush, green landscape on your Albuquerque property, CBQ Quality Lawn Care has the talent and knowhow necessary to bring your visions to life and to sustain them long into the future.
It's right there in our name; CBS Quality Lawn Care assures quality service to Albuquerque customers on jobs big and small. Feel free to contact usfor more information. You can also call (505) 884-8122 to get a free estimate on lawn care or landscaping service.