Superior Sod Installation
Sod installation looks simple—roll out the green, tamp it down, apply water and enjoy a beautiful lawn. But for your sod to survive and deliver a lush grass lawn instead of a yard full of weeds, there's a lot of prep work that needs to be done first. The experienced landscape professionals at
CBS Quality Lawn Care
know this. We take the time to do your sod installation right so that you get the best return for your landscaping investment.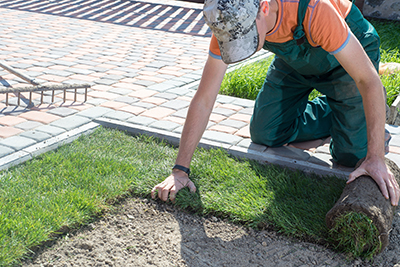 What Makes for Superior Sod Installation
The success of your sod installation depends on two factors:
The quality of your sod
The quality of the ground preparation
CBS Quality Lawn Care
ensures success by using top-quality sod from trusted local suppliers and making sure your ground is sod-ready. Our sod installation process involves:
Thorough ground clearing We rotor till the entire area to be sodded to remove dead grass and loosen soil to make it easier for the new grass to take root.
Ground leveling Sod takes root more readily on level ground, so to the greatest extent possible, we grade your yard.
Herbicide application Freshly cleared ground is fertile ground for weeds to sprout, and weeds will quickly choke your new sod. To prevent competition, we treat the area to minimize weed growth.
Fertilizer application We ensure your sod has the nutrients required for fast, healthy root growth
Immediate watering We water sod within 30 minutes of being laid to keep emerging root fibers hydrated.
We also take the time to help you understand how to maintain your sod during the first few weeks after installation for best results.
Get the Best Value for Your Sod Investment
Quality sod and sod installation doesn't come cheap. But, when you invest in expert services from
CBS Quality Lawn Care
, you will get the best value for your money…and that allows you to enjoy the full benefits of sod—a lush, healthy lawn that lasts for years.
Contact us
for a free estimate on sod installation at your Albuquerque-area home.
Sod installation is the first step towards a healthy, vibrant lawn. CBS Quality Lawn Care is happy to perform sod installation along with many other essential services, including landscaping, lawn care, and pest control. Call (505) 884-8122 to learn more about our services.